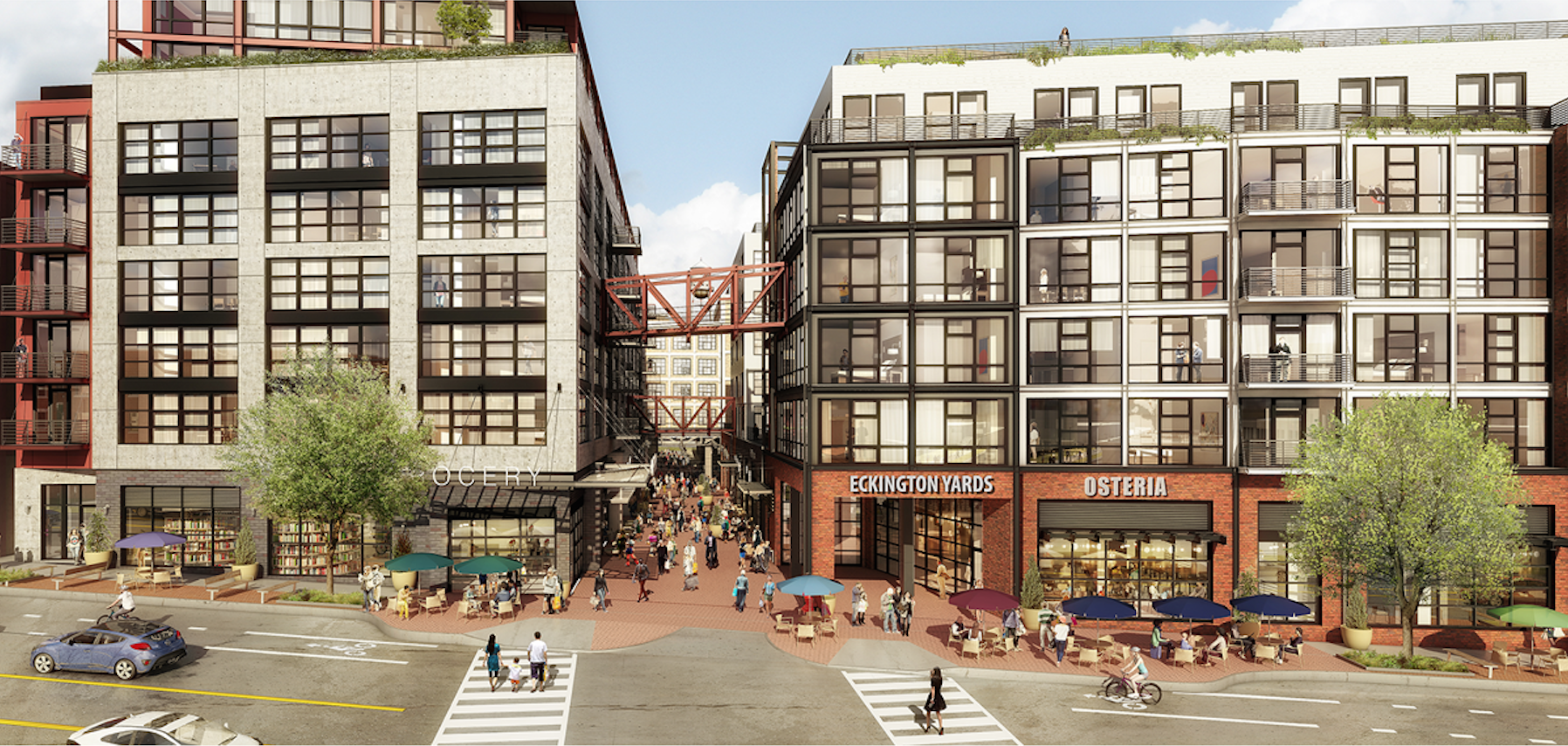 Eckington Place will be home to a location of Brooklyn Boulders, a boutique climbing gym out of New York.
Brooklyn Boulders, a New York climbing gym and fitness outlet, is coming to the Eckington neighborhood of Northeast D.C., with plans to open in 2021.
The fitness company will open a 35,000-square-foot facility at Eckington Place, taking about half of the retail space planned for the development, which comes from JBG Cos. and Boundary Cos. The development did not get rolled into the newly formed JBG Smith Properties and is still the purview of one of the legacy JBG funds, although JBG Smith is managing the development.
The Eckington Place project on Q Street NE, previously called Eckington Yards, also calls for approximately 695 residential units, 331 vehicle parking spaces, 237 bicycle parking spaces and several maker spaces.
"This needed to be a destination-driven retail user and given where we're at with retail, the one that was a no-brainer was a boutique fitness," said Amy Rice, vice president for retail leasing with JBG Smith. Experiential or entertainment-centric venues have become the darlings of the retail leasing world in the past two years as traditional soft goods retailers have pulled back on opening new stores.
Brooklyn Boulders was attractive because of its size and because of the amount of activity it could bring the space, Rice said.
"They do a tremendous amount of programming and activation within their space," Rice said.
The facility will include climbing and bouldering equipment, with the climbing area stretching across three floors. The company removed some of the parking on the building's lower level to create space for the taller climbing walls. The bouldering area is less tall and doesn't require ropes. The facility also includes a gym with traditional fitness equipment.
Brooklyn Boulders in Eckington will also have a co-working space component, and the tenant also has the right to offer some kind of food and beverage, said Rice. There are four other Brooklyn Boulders around the U.S.: two in New York, one in Somerville, Massachusetts, and one in Chicago.
We've reached out to Brooklyn Boulders for more information and will update this post when we hear back.
JBG Smith executives declined to comment on what might occupy the remainder of the retail space, pointing only to the planned unit development approval, which calls for the maker spaces that range between 1,200 and 8,000 square feet.
H&R Retail represented Brooklyn Boulders in the lease negotiation.